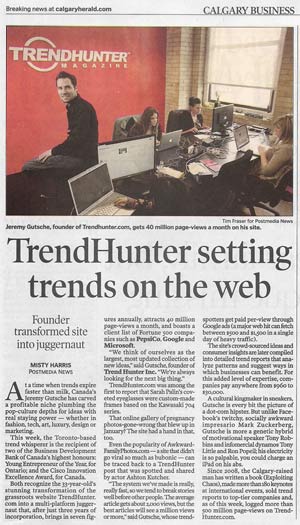 Trend Hunter Setting Trends on the Web
(Telegraph / Post) A cultural kingmaker in sneakers, Gutsche is every bit the picture of a dot-com hipster. But unlike Facebook's twitchy, socially awkward impresario Mark Zuckerberg, Gutsche is more a genetic hybrid of motivational speaker Tony Robbins and infomercial dynamos Tony Little and Ron Popeil; his electricity is so palpable, you could charge an iPad on his abs.
[More]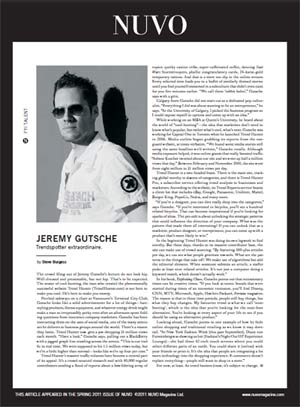 Jeremy Gutsche -
Trendspotter Extraordinaire
Character Profile
(Nuvo) The avatar of cool-hunting, the man who created the phenomenally successful website Trend Hunter (TrendHunter.com) is not here to make you cool. He's here to make you money. Perched sideways on a chair at Vancouver's Terminal City Club, Gutsche looks like a solid advertisement for a lot of things—hairstyling products, fitness equipment, and whatever energy drink might make a man so irrepressibly perky even after an afternoon spent fielding questions from insurance company marketers.
[More]
---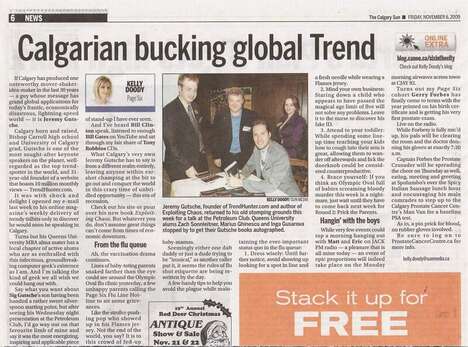 Keynote Review
Calgarian Bucking Global Trend
(The Sun) [Jeremy speaking] was the most energizing, inspiring and applicable piece of stand-up I have ever seen. And I've heard Bill Clinton speak, listened to enough Bill Gates on YouTube and sat through my fair share of Tony Robbins CDs.
[More]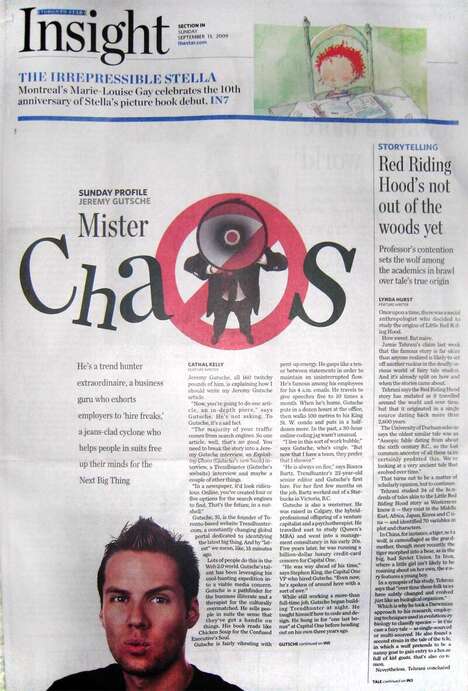 Jeremy Gutsche:
Mr. Chaos
Character Profile
(The Star) Gutsche is a pathfinder for the business illiterate and a therapist for the culturally overmatched. He sells people in suits the sense that they've got a handle on things. His book reads like Chicken Soup for the Confused Executive's Soul.
[More]
---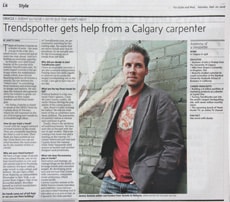 Oracle: Jeremy Gutsche
Go-To Guy For What's Next
(The Globe and Mail) Think of Jeremy Gutsche as a dealer of sorts - the man you go to for a hit. He's street-smart, connected and always one step ahead. And he's feeding an insatiable appetite.
As founder and chief trend hunter of the popular style website TrendHunter.com, Toronto-based Gutsche is the go-to guy when the marketplace needs a fresh dose of cool. Reaching millions of viewers a month, his site delivers the "what's next" in everything from business and technology to design and fashion. He also uses the research data generated by his website to guide corporations as they target markets and develop strategies.
[More]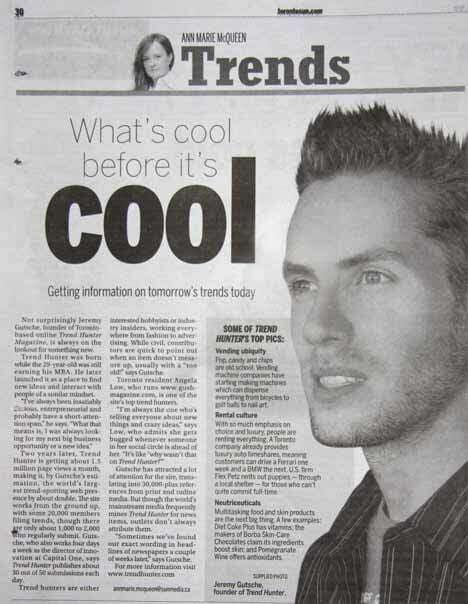 What's cool before it's cool
Getting information on
tomorrow's trends today

(The Sun) Not surprisingly Jeremy Gutsche, founder of Toronto-based online Trend Hunter Magazine, is always on the lookout for something new.
Trend Hunter was born while the 29-year-old was still earning his MBA. He later launched it as a place to find new ideas and interact with people of a similar mindset.
"I've always been insatiably curious, entrepreneurial and probably have a short-attention span," he says. "What that means is, I was always looking for my next big business opportunity or a new idea."
[More]
---
Trolling for Trends... Capturing Cool
Profile: Jeremy Gutsche's Job Description

(Queen's) If you want to converse with Jeremy Gutsche about his work, be prepared to discover a new language.While 'clusters' may be chocolaty-almond delicacies and 'sparks' a function of electricity in your lingo, to Jeremy they're the constructs of the massive 'trend' universe he's created online.
[More]
---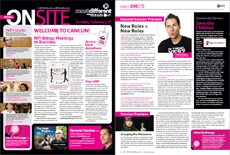 Tales From the Front Lines
Jeremy Gutsche Review (Keynote in Cancun for 1,200 Meeting Planners)

(Meeting Planners International) - Sunday General Session keynote Jeremy Gutsche hit this topic running with a crowd buzzing and tweeting at an increasingly louder rate, leading to what appeared to be one of the best-received and most thought-provoking keynote sessions to ever grace the Meetings Professional International event stage.
...
Can you say "Jeremy Gutsche" without breaking out in goose bumps? I think not. His opening keynote address this morning wowed even me - the woman who hired and helped prep him for his keynote. I should have been better prepared for how awesome he would be. You could feel the energy in the room, even digitally, through the virtual live stream of the session. The Twitter feeds lit up like I've never seen before at MPI. His messages of innovation and exploiting chaos were on target and he did a phenomenal job of engaging our audience, tying his messages into relevant information for our industry.
"Jeremy was such a hit! I almost had to put a bag over his head so people would stop interrupting our walk to the main building after his presentation. You would have thought he was a major celebrity... Everyone was very impressed! Very professional individual who has a lot going for him!" MPI's Kristen Kouk.
[More]
---
How I Made It
The Entrepreneurial Mind of Jeremy Gutsche

(The National Post) - "I was always just an entrepreneur at heart -- desperately looking for what my next big idea would be and that started when I was just a kid. Pretty much every decision I made in life, whether it was my university or becoming a management consultant, was all just to really point my brain in the direction of new ideas..."
[More]
---
The Big Payback
Jeremy Gutsche on MBA Schooling

(The Financial Post) - Queen's University MBA grad Jeremy Gutsche has also discovered the value of cultivating such connections. When he launched TrendHunter.com, a web site that identifies cutting-edge ideas and innovations, classmate Greg Ponesse was among the site's first trend spotters,
[More]